Remodeled Life
An Online Counseling Course
Jen Oetjen is a Licensed Professional Counselor (LPC) in Gilbert, Arizona, and she's been helping clients in private practice since 2013.
But 2020 made it abundantly clear that it was time to change up her business model.
Most of her clients work through the same curriculum, that she's developed over the years. So why not maximize her impact by creating an online course which would also minimizing her workload?
The online program Jen envisioned would allow her to step back from her jam-packed days, and give her the ability to help more people (from the comfort of their own homes), as well as build a recurring revenue stream. (Brilliant, right?)
Jen knew her curriculum like the back of her hand, and understood exactly who her ideal client was, but she had no idea how to take her idea and make it a reality.
We helped Jen develop a product and website from the ground up. To date it's been one of our favorite projects! (It didn't hurt that Jen is a joy to work with and for!)
Scope of Project: Remodeled Life
Business Consulting
Starting any new endeavor is a daunting task! Tim worked with Jen to lay out a game plan, ensure each step of the process was clear, and next actions were clearly laid out. They worked together to lay out the progression of the course work, and how to break down the big concepts into smaller, more manageable chunks.
This was a team effort, as Jen worked to provide outlines, concepts, big ideas, and copy ideas, to help us understand what she envisioned. We then took those ideas and turned them into a reality!
New Website
A new brand and new website were a must!
Jen wanted her website to reflect the transformation that her clients undergo from going through working with her, and completing her program. We kept returning to the ideas of 'freedom' and going from 'darkness to light.'
We used pain points (both in copy and in visual elements) to identify with her user from the very beginning.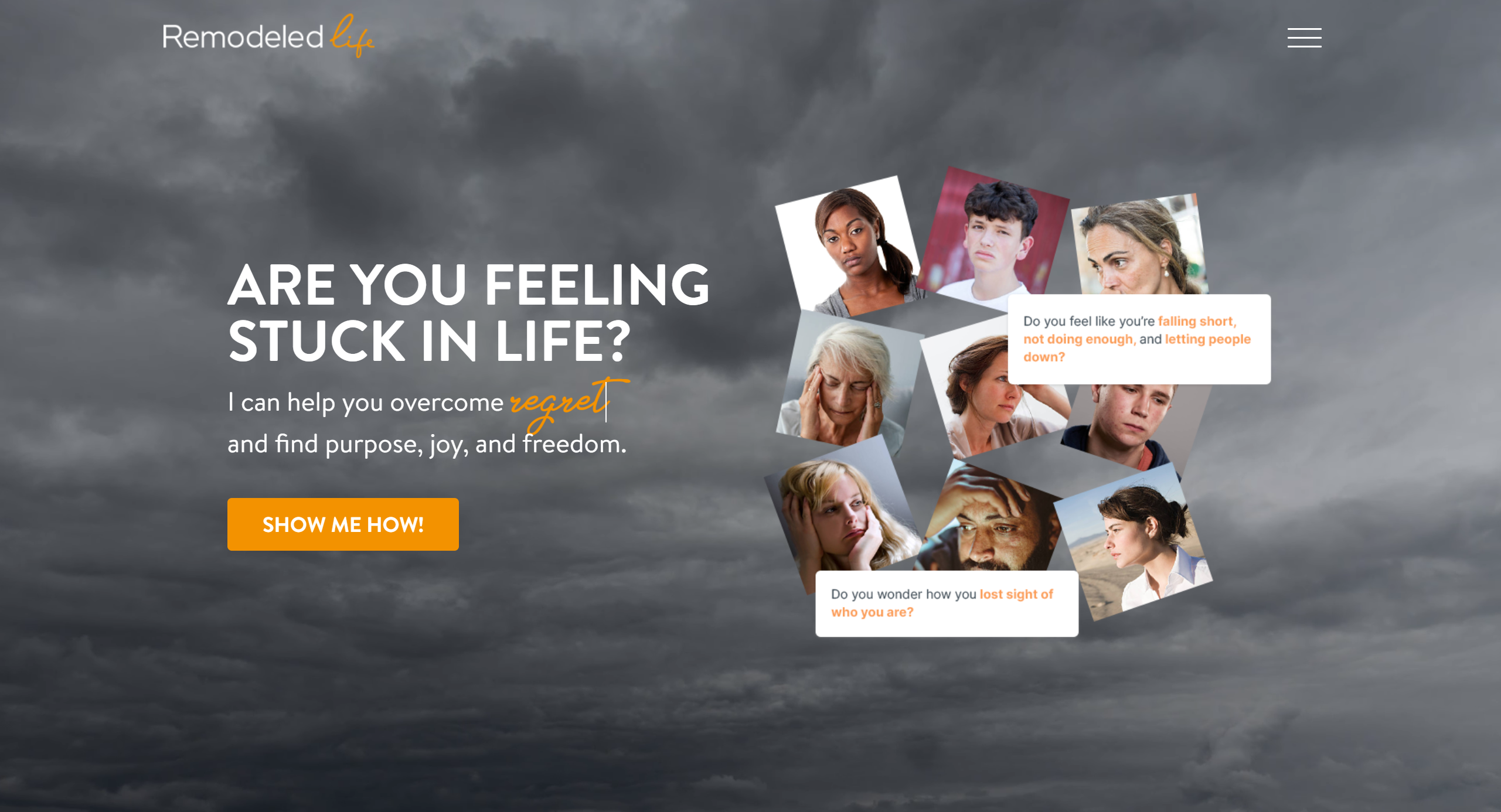 There is no other option for the user, but to click "SHOW ME HOW!"
Once inside, the user goes from darkness to light, and we introduced the concept of remodeling your life, transforming your future. (Her site's big idea and promise.)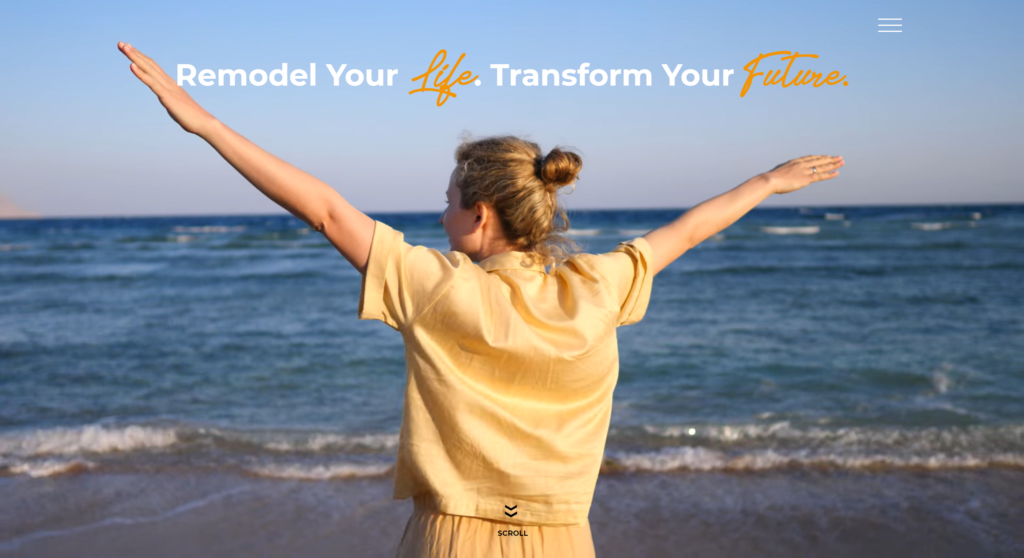 Web Copy
Cara and Jen worked together to capture the voice and vibe of Remodeled Life.
Jen was very clear on the pain points her clients feel when they approach her for counseling services.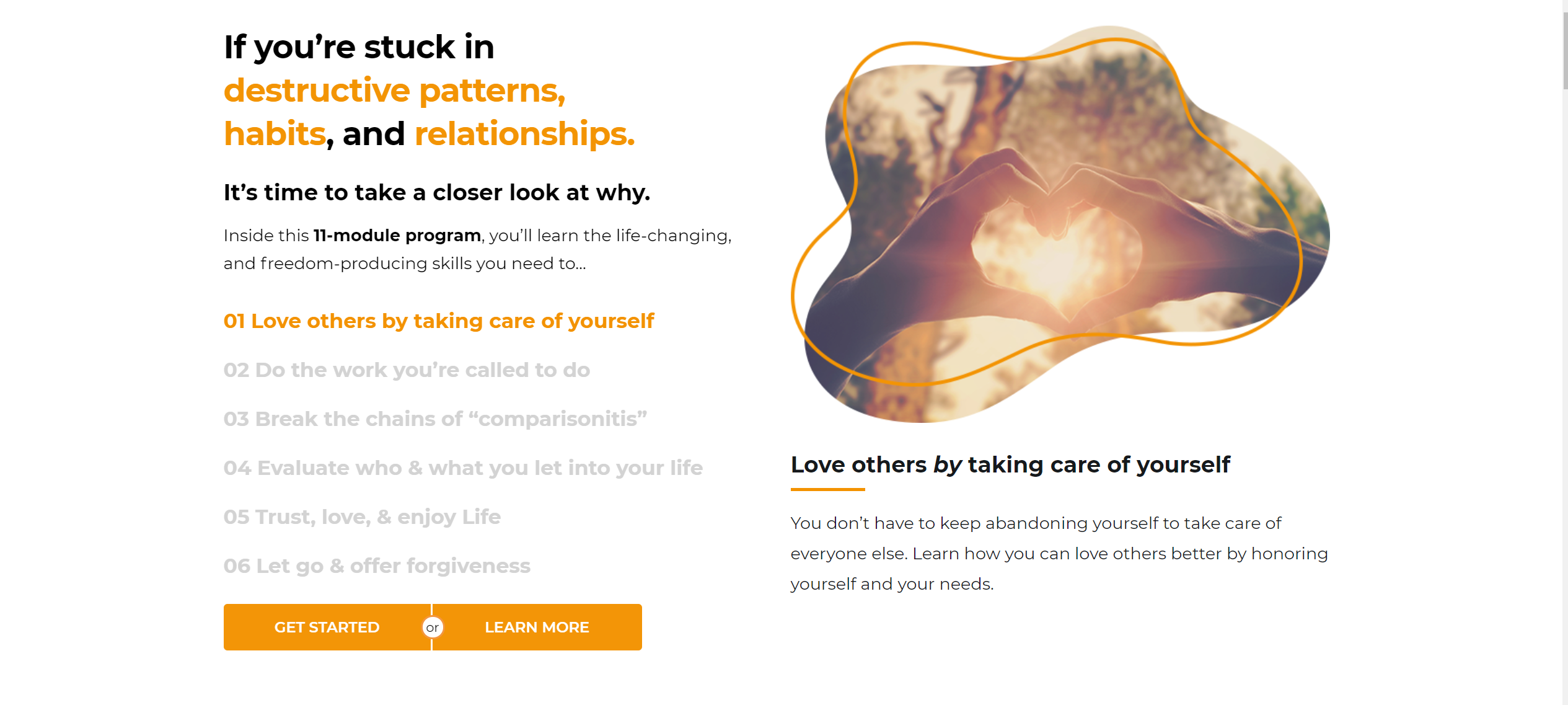 Jen's passionate about the transformation that takes places as women learn how to the deconstruct old behaviors and rebuild with healthy new ones.
Cara took this information and assembled powerful, engaging, and action-oriented sales copy (without being too salesy).
The web copy includes everything on the website, as well as the sales page.
Content Development
Once inside the program, participants will experience and learn from the rich and vast content that was developed for Remodeled Life.
Remodeled Life consists of 11 different modules to walk participants through the process of remodeling their lives.
Each module consisted of developing workbooks and slide decks (for the videos).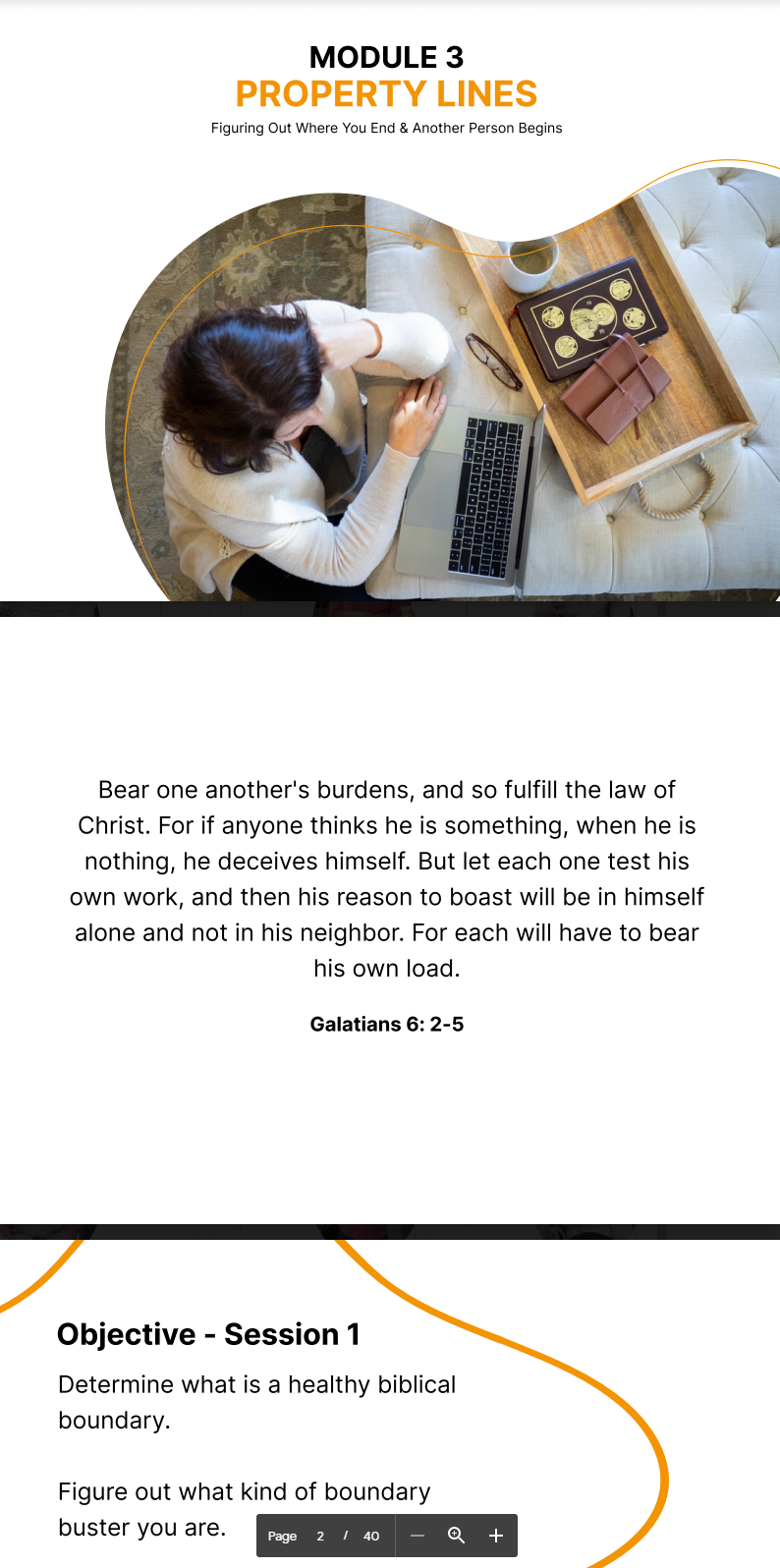 Each workbook is branded to the program, and includes loads of valuable information, tools, and processes Jen has developed over the years to help women remodel their lives.
Brand Identity
Together, we worked to create a brand identity that represented Jen and her business. It included the creation of new logos, colors, typography, and imagery to be used throughout her site, products, and future marketing campaigns.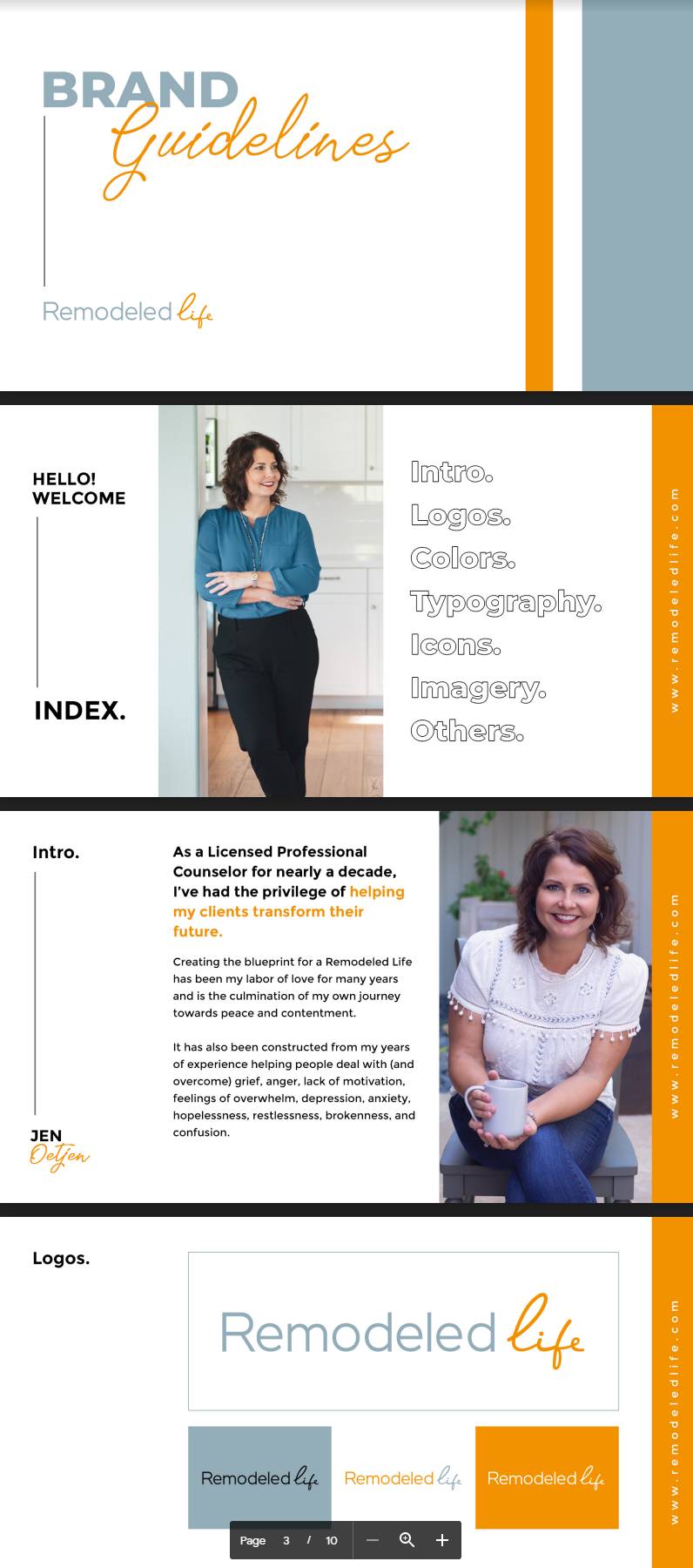 Video Consultation, Editing & Project Management
We managed a small army of sub-contractors to bring Jen's vision to completion, including video editors, graphic designers, and web developers.
As guardians of her brand, we ensured every piece of collateral aligned with her brand identity, and captured her brand's voice.
Like many of our clients, Jen was nervous about using video for her online program. Tim worked with Jen to help set up her studio, he also made recommendations on what equipment to purchase, and how to set it up, and how to maximize her impact in front of the camera.
Major kudos to Jen for wrestling that dragon, and prevailing!
Her videos are polished, professional, and are cohesive with her messaging and brand.
The irony of this project is that not only do Jen's clients remodel their lives as they go through her program, but it very much mimicked a home build for us as well.
We feel entirely blessed to have built this new website and program with Jen, and are excited to see what great things happen for her in the future!

BUSINESS TYPE
Online Counseling Program
PROJECT REQUIRMENT
Web Design & Development, Copywriting, Product Development, Consultation