Life Managed
We are independent financial planning & life management coaches.
Thanasi has a thriving business as a professional financial planner. His clientele want to be sure their financial guy exudes professionalism and trust before they choose to give him their business…and we understand why!
Thanasi's first site was fun and playful, but lacked the strong professional presence that's needed in the financial industry. His copy was repetitive and had a lot of financial jargon that might turn off visitors. He reached out to us to help him take his site to the next level.
Here are some of the "BEFORE" pictures from his website.
WHAT WE DID FOR LIFE MANAGED
COPYWRITING: One of the challenges we encountered was Thanasi and his team realized they didn't have just 1 avatar, but 3! (Three different types of clients that they typically did business with.) This meant that we needed to address each of these avatars with slightly different messaging. We also knew this would be a design challenge to give each of these avatars their own user experience on the site. Cara worked with Thanasi and his team to get clearer on who these three avatars are and how we could craft the messaging to help these users see Life Managed as the solution to their financial planning needs.
WEB DESIGN: Tim loves to bring in a unique element to every custom website he creates. The challenge was presenting three different users with three different ways to interact with the site without cluttering up the home page. This was accomplished through the three side-by-side images on the home page. Each of these pages has a headline to capture the pain point of this group and show them how Life Managed will meet their needs.
FINAL RESULTS:
The new Life Managed site conveys trust and professionalism. The user interface is clean, and the three different users have a clear path to navigate to get the answers they need.
FONTS USED
SECONDARY-FONT
Gotham Book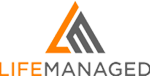 BUSINESS TYPE
Financial Planning
PROJECT REQUIRMENT
UI/UX Design and Development
CLIENT
Thanasi Panagiotakopoulos